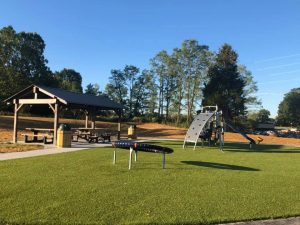 Batesville, IN—The City of Batesville just opened a new park on the northside of Batesville across from Batesville Tool and Die and behind the Margaret Mary Outpatient & Cancer Center located on Six pine Ranch Road.
The new park was funded through the federal Land and Water Conservation Fund and administered by the Indiana Department of Natural Resources. The match for the $200,000 grant came from the land value of the 3 acres Margaret Mary Health generously donated a few years ago.
The grant, unfortunately, did not cover all the park expenses, so the community stepped up with donations for all the amenities including picnic tables, benches, dog waste stations, trash cans, message boards, and a shelter. All donated items at the new park have plaques attached stating the donor's name, organization, business, family, or loved one's the item was sponsored in memory of. The playground was made possible through a donation from Lance and Ronda Green and the Belterra Community Fund. Donations for an overlook deck to view the wetlands with many various kinds of wildlife will be installed this winter and be located next to the playground.
The park is a 3-acre park that offers a .22 mile paved, multi-use 9' wide trail. There is a 5 car parking lot, which is scheduled to be paved, off of Six Pine Ranch Road, and the entire park is A.D.A compliant. There is a small shelter with 3 picnic tables next to the playground. The shelter was salvaged from the I-74 eastbound rest area before its demolition. Thanks to Leising Excavating and Mulch for moving the shelter for the city and to Batesville Tool and Die for allowing the parks department to store the shelter there while it was being refurbished for use. The playground equipment is unique and challenging with a synthetic turf (fake cushioned grass) underneath.
The new park has a connecting trail to the walking trail around a small pond on the hospital's land, and the hope is to also have a connecting trail to a small looped trail behind Batesville Tool and Die.
The park is open and a ribbon-cutting will be held in the spring after the grass is up, overlook deck complete and trees planted.
Now the park needs a name! You are encouraged to get out and enjoy the new park and if a name comes to mind, the City wants to hear what it is. New park name submissions can be made online by clicking here.
All new park names must be submitted by December 10th, 2019. The chosen name will be unveiled at the spring ribbon cutting. Batesville Parks currently consist of Liberty Park, Veteran's Park, Memorial Pool, Brum Woods, and the Weberding's addition Park.
There will also be a link on the Liberty Park Facebook page, along with the city of Batesville website. The new name will be unveiled at the spring ribbon cutting.